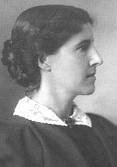 "There is no female mind. The brain is not an organ of sex. Might as well speak of a female liver."
Charlotte Perkins Gilman
(July 1860 – August 1935
I have often thought I had more male energy than female. It must sound strange but I've always thought I make decisions based predominantly on logic and rarely on emotions.
I learned to use hand and electrical tools and as well as most men. I got my pilot's license when I was 35 because I was afraid of flying. I learned to race cars because I was told "women don't race."
I've challenged most of the things I was afraid of but more often it was because I wanted to overcome the variances between men and women. I didn't want to be dependent on a man. I wanted to live my life without restrictions imposed by others.
If my brain were "female" I'm sure I never would have been able to accomplish everything I have done so far. I'm not done yet either. There is still so much more of the world I want to discover and the dream of launching a school for kids at risk is what drives me every day.