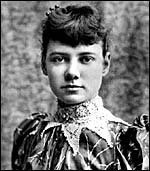 "Energy rightly applied can accomplish anything."
Nellie Bly (1864 – 1922)
I have spent a great deal of energy in my life on helping others who most often realized a great benefit of doing better in their life because of my influence. I would think about their success and compare it to my life and wonder at the inequity.
Then I discovered I had a passion to help children, especially kids at risk who live on the streets and have no idea where their next meal is coming from or how they're going to get through another day.
My life has changed, forever, because of that passion. The momentum I have is because of the passion, the energy I have created for the program has generated an entire team of like-minded people who see the vision and have the energy to help me realize my dream of opening a school for these children who have no one to champion them and guide them gently towards their adulthood.
The force of the energy I have directed towards this dream has brought me to a point in my life where miracles occur nearly every day. Some small, some large, but nevertheless, the miracles are evident constantly.
Create your life of miracles by following your passion.